Loose socks (ルーズソックス rūzu sokkusu) are a type of socks popular among Japanese high school girls since the mid-1990s, the so-called kogal or kogyaru, and still in vogue. Most common color is white although there are also black and navy. The socks are sewn very wide, that they seem to fall from the leg. They are worn below the knee. They look like leg warmers, with the difference that the latter do not cover the foot.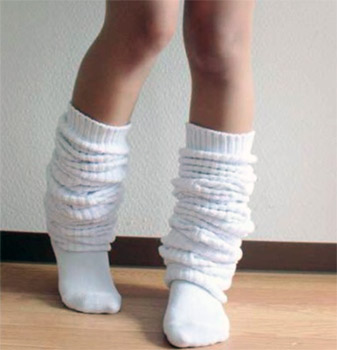 How to wear and put on loose socks
The typical Japanese style loose socks are quite long, sometimes up to 2 meter / 7 feet. First time putting on the slouchy socks can be a challenging, especially if the shaft circumference is very wide. To have a satisfying optic the sock is layered from foot towards knee. The following video shows how the slouch of the sock has to be handled.
To keep the socks in shape for maximum time some kogal girls use special glue to attach the socks to the leg. The so called sock glue is skin-friendly and can be washed off. These glues are available in different web shops, especially asian ones. In Japan is "Sock Touch" is one of the most popular brands.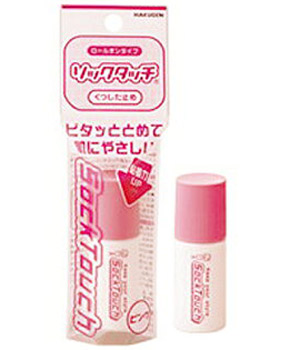 History of loose socks
At the beginning of the nineties it became very fashionable among Japanese teenagers to wear miniskirts which, in the mid-nineties, were combined with socks to accentuate their uncovered legs and to protect themselves from the cold.
According to the best known versions the so called kogyaru fashion began in the city of Sendai or in Mito. In both cities the girls wore loose socks to protect themselves from the cold and to make their legs look thinner. Later, the phenomenon spread to large cities such as Osaka and Tokyo and then to the rest of the country, but always remained almost exclusively linked to girls in high school.
The peak of popularity of loose socks occurred between 1996 and 1998. Some schools even forbade loose socks. This attracted media attention to the accessory in question as an emblematic element of high school girls' culture.
After 1998, the mass popularity of this type of socks began to fade. Although the mass use of loose socks decreased, it remained an established trend. Some reasons why the success of this accessory decreased may be related to the fact that it had become a mass fashion and that some schools enacted regulations that forced the use of socks (generally) with school uniforms, while in other schools they were banned.
Recently loose socks became part of the streetwear fashion in North America and Europe. Especially Influencer wear these kind of socks with bulky sneakers. Very popular are socks of fesoi Slouch Socks Company.